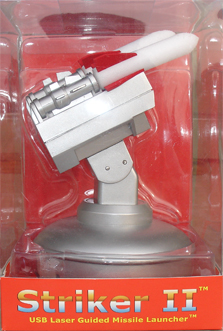 Not sure what to get that certain someone on your Christmas shopping list who seems to have everything? Struggling with the perfect gift idea for the ninja in your life? Or are you just sick of your office mates sticking their heads around your cube wall at inopportune times?
Well, now you can address them all, with the USB powered laser-guided missle launcher. Control the launcher through your PC software. And watch neighboring nation-states - er.. I mean co-workers - tremble.
Shipment to Krazy Kim Jong-Il and his North Korean cohort is strictly forbidden.